Updated 8-5-07!
Electric Tiki and Sideshow Collectibles are proud to present the Eddie and Marilyn Munster 2-pack, the latest characters in the Tooned Up Television series, and the ongoing salute to classic TV characters. This 2-pack will complete your collection of "The Munsters" series. Making its television debut in 1966, "The Munsters" became an instant hit and gained a loyal fan base that is still going strong almost 40 years later. A tale of an out-of-place family, living in residential America, unaware of their rather unique "differences." The entire Munsters series is available in full color and a super rare black and white series limited to 100. SRP $149.99 For ordering info. please visit's Sideshow's website!
To finish up we have paint masters for the Eddie Munster and Marilyn Munster 2 pack. Both were designed by Tracy Mark Lee. Eddie was sculpted by William Paquet and Marilyn was sculpted by Sam Greenwell.
Grandpa designed by Tracy Mark Lee - Sculpted by William Paquet
Updated 8-19-06 to show Gramps clear bottle.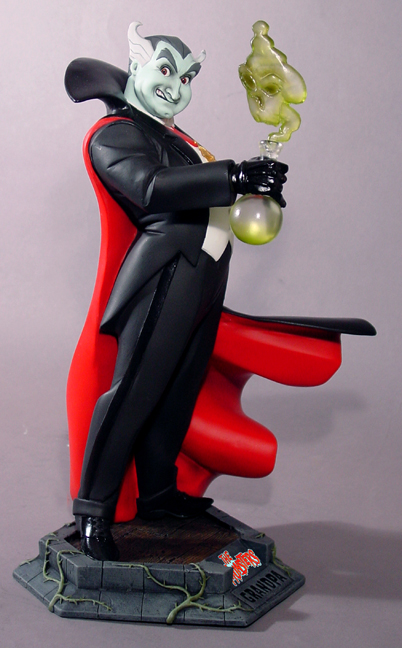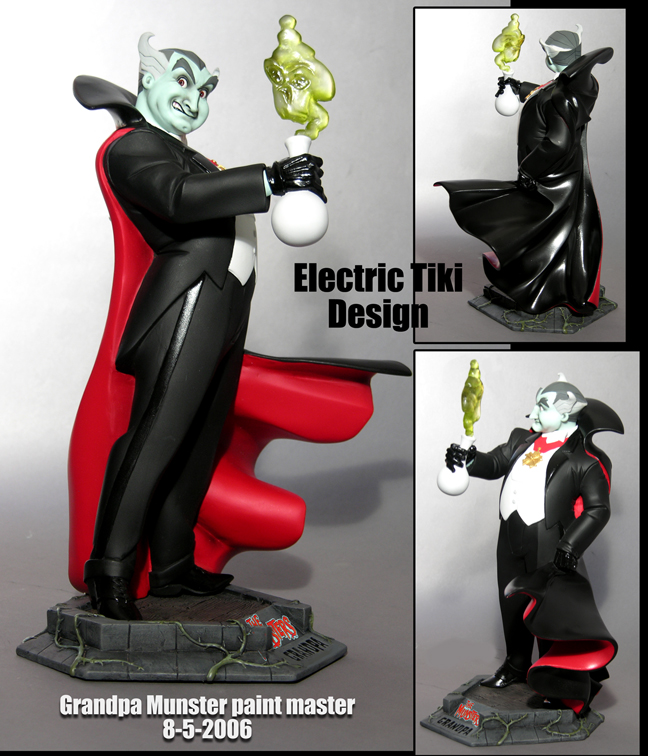 Lily designed by Tracy Mark Lee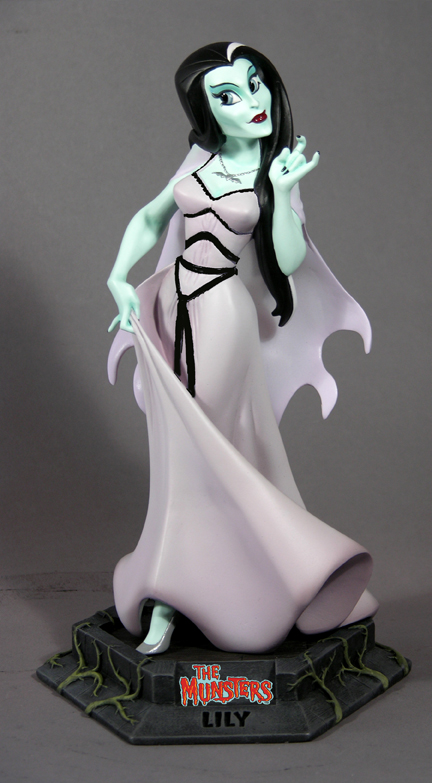 Electric Tiki is proud to announce the first character in our "Tooned Up" MUNSTERS line. Herman marks a new era for our "Tooned Up" line. As we enter our 5th year we celebrate one of America's best loved series. More attention to detail as well as more character specific bases and even more limited. Herman ( who is in scale with the rest of our "Tooned Up" and towers over his fellow TV Stars at app 13" tall) series kicks off The Munsters line and will be joined by the entire family with Lilly up next! Grandpa wil be added and Marylin and Eddie will be released as a special "Tooned Up" two pack.
Herman designed by Tracy Mark Lee - Sculpted by Ruben Procopio