Please read all info. below images before placing orders!
Shipping begins in August/September 2017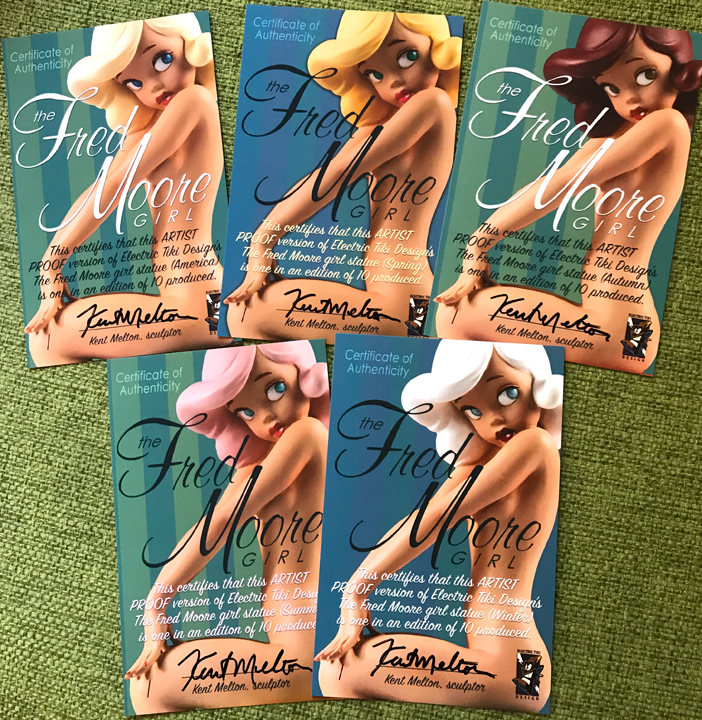 1/6 scale--dimensions are app. 8.5"H x 5 "D x 5 "W
-Retail price on each version (regular edition) is $199.99
5 Versions include - Spring-Limited to 100 - Summer-limited to 100 - Winter-limited to 100 - Autumn-limited to 100 - America-limited to 100
-Once ordered, there can be no substitutions for another version.
-Overall edition size (including all painted variants) is 500.
There is an additional Artist Proof series that consists of 10 of each version. These will come with a Certificate of Authenticity signed by sculptor Kent Melton. These will retail for $249.99.
SHIPPING
-Actual shipping date will start 4th quarter 2017
-Delays may occur and usually do, so please be patient. Please allow up to 90 days for delivery of your statue after ordering.
-Shipping & handling for single statues will be a flat rate of $19.99 within the United States. All orders withing the continental US will be via FedEx ground/home delivery. AK, HI and territories will be via USPS priority mail. Each statue comes it's own shipping box and will ship separately. If you order more than one of any statue the standard shipping charge will apply. The only combining of shipping will be the set of 10 matching sets we will offer. Shipping for the matching case of 4 will be $32 within the continental US and $55 for AK, HI.
-For international orders ...just place the regular order and we will send a notice for shipping balance. This will be anywhere between $25 and $75 total. if for some reason we can't accomodate shipping to your country your payment will be refunded. All shipping on international orders is via USPS priority mail.
-Production is strictly limited so there can be no exchanges if item is damaged---only refunds. Version can not be changed once purchases are made. In other words, if you order the Winter version you can't change your order to the Autmn version. If you can't decide, buy more than one, or heck, buy all 4. :D
-By placing an order, you have agreed to all the above